Bridal Earrings
Gorgeous bridal earrings are the perfect final touch for your wedding day! Find your perfect pair of earrings in our stunning collection at Narvi.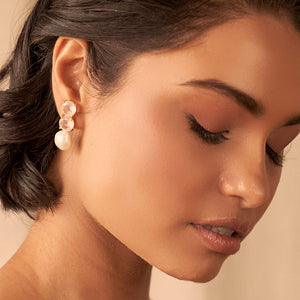 Elegant Bridal Earrings
With a stunning range of gorgeous bridal earrings at Narvi, you're sure to find the perfect earrings to match your dress. We take the stress out of finding the perfect jewellery!
Pearls are a classic choice for both fashion and for weddings. With a gorgeous range that includes classic style pieces to modern fashion pieces, you can't go wrong with our bridal pearl earrings.
For those seeking a statement look for their wedding day, check out our range of statement bridal earrings. Bold and stylish, they're a perfect choice for the bride looking to make a big impact at her wedding.
With our stunning selection of unique and beautiful bridal earrings that you won't find anywhere else, Narvi will ensure that you're feeling beautiful and flawless on your special day.
Free Shipping Australia Wide
Not only do we have a stunning wide-ranging collection, but when you buy online with Narvi you'll receive free standard shipping Australia wide. Or if you want to receive your gorgeous earrings as soon as possible, simply upgrade to express shipping for only $4.95.
For orders placed by 12pm AEST Monday to Friday, we'll also dispatch same day to ensure that you receive your beautiful pieces as quickly as possible.
Have a Bridal Earrings questions?
What are bridal earrings?

Bridal earrings are a type of earring that is specifically designed to complement a bride's wedding dress and overall wedding look. They are often made with high-quality materials such as pearls, diamonds, or other precious stones, and come in a variety of styles and designs to suit different bridal aesthetics. Bridal earrings can be simple and elegant, or they can be more elaborate and eye-catching, depending on the bride's personal preferences and the overall theme of the wedding.
Where to buy bridal earrings?

If you're looking to buy beautiful and high-quality bridal earrings, Narvi Jewellery offers a variety of options to choose from. Our collection of bridal earrings features a range of styles and designs, from simple and elegant to more elaborate and eye-catching. We use only the finest materials, such as diamonds, pearls, and other precious stones, to ensure that our bridal earrings are of the highest quality. Whether you're looking for a classic and timeless design or something more modern and unique, our collection has something for every bride.
How to choose bridal earrings

Choosing the perfect bridal earrings can be a daunting task, but with a few helpful tips, you can find the ideal pair to complement your wedding look. Consider your dress, hairstyle, face shape, other jewellery, and try on different styles to see what looks best.
What Range of Bridal Earrings Can I Expect to Find at Narvi Jewellery?

Narvi Jewellery offers a carefully curated selection of bridal earrings, featuring pieces from some of the industry's most respected brands. Our assortment caters to a variety of styles, from timeless classics to contemporary trends, ensuring that every bride can find the perfect complement to her wedding attire.
How Can I Choose the Perfect Pair of Bridal Earrings at Narvi Jewellery?

Choosing the ideal bridal earrings depends on various factors including the style of your gown, the shape of your face, and your personal preferences. Our collection features a range of options, from understated studs to elaborate chandeliers. If you're unsure, our knowledgeable customer service advisors are available to assist you in making your selection.
How Should I Care for My Bridal Earrings Purchased at Narvi Jewellery?

Maintaining the quality of your bridal earrings largely depends on their material and construction. We generally recommend storing them in a dry place and using a soft, lint-free cloth for cleaning. For further care guidelines, you may consult our customer service advisors or refer to any brand-specific instructions provided.