Soko Jewellery
Soko is a showstopping jewellery brand that is quickly gaining popularity for its unique designs. The company works with artisans in Kenya to create beautiful pieces that are both stylish and sustainable. Soko's jewellery is made from recycled materials, such as brass and leather, and the company is committed to fair trade practices. In addition to its ethical manufacturing process, Soko's jewellery is also very affordable. This makes it an excellent choice for those who are looking for designer-quality jewellery without the designer price tag. Whether you're looking for a statement piece or a simple accessory, Soko's jewellery line has something for everyone.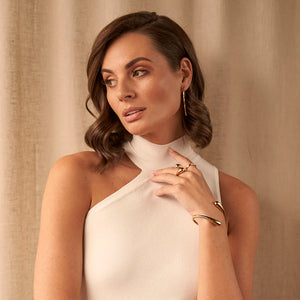 All About Soko
Soko is a women-led, people-first ethical jewellery brand that uses a tech-powered manufacturing platform built to connect marginalised Kenyan artisans with the global market.
Soko believes in using business as a force for good to balance profit with purpose. Soko continues to work towards reducing inequality and poverty, building a healthier environment, stronger communities through the creation of high-quality jobs with dignity and purpose.
Soko is an ode to many meanings of being strong. They're inspired by you—powerful women who cease to be defined by the status quo. Women who create, innovate and inspire, every day, to build a better, more brilliant future for themselves, their families, and their communities.
Through a continued exploration of form, materiality, and artisan techniques, Soko create jewellery collections comprised of evolved classics and subtle statements to celebrate your uninhibited self-expression.
Free Shipping Australia Wide
Not only do we have a stunning wide-ranging collection, but when you buy online with Narvi you'll receive free standard shipping Australia wide. Or if you want to receive your gorgeous earrings as soon as possible, simply upgrade to express shipping for only $4.95.
For orders placed by 12pm AEST Monday to Friday, we'll also dispatch same day to ensure that you receive your beautiful pieces as quickly as possible.