Simply Serasi Jewellery
Simply Serasi is a US based jewellery brand founded by talented artisian, Rosa, who originally grew up in Indonesia. Hence the name Simply Serasi, which is an Indonesian expression which encapsulates the philosophy of harmonious coexistence of personalities and styles. This philosophy is deeply ingrained in Indonesian culture and it is reflected in all of Rosa's gorgeous designs, with all of the jewellery pieces from Simply Serasi being handmade and featuring clean lines with a modern look. They are perfect for modern women who want to showcase their creative feminine side. Stunning pieces and impeccable quality, Simply Serasi jewellery is the perfect option for those who love unique and beautiful art deco jewellery.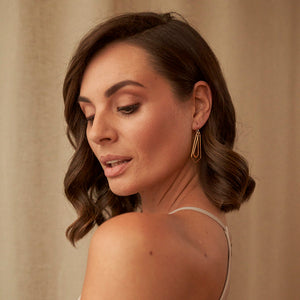 All About Simply Serasi
Simply Serasi was founded by Rosa who grew up in Indonesia and now lives in the US. Serasi (sè-ra-see) is an Indonesian expression for harmonious coexistence of personalities and styles. Indonesia's rich, laid back and diverse culture embraces this philosophy in every way, ensuring that life transpires in balance.
This philosophy is reflected in her designs that are dedicated to simple minimalist jewellery. Her handmade jewellery features clean lines and a modern look. Perfect for professional women looking to showcase their creative feminine side.
Simply Serasi specialises in beautiful art deco geometric jewellery inspired by the clean lines, geometrical forms. This simple and elegant form of Simply Serasi art deco jewellery allows women the freedom to wear it seamlessly from office to cocktail hour, from casual to black tie events.
Simply Serasi's popular initial and name necklaces personalised to the wearer, this kind of sentimental jewellery is a unique and easy gift for your BFF, girlfriend, mother or grandmother, bridesmaid, mother of the bride or the bride herself!
Free Shipping Australia Wide
Not only do we have a stunning wide-ranging collection, but when you buy online with Narvi you'll receive free standard shipping Australia wide. Or if you want to receive your gorgeous earrings as soon as possible, simply upgrade to express shipping for only $4.95.
For orders placed by 12pm AEST Monday to Friday, we'll also dispatch same day to ensure that you receive your beautiful pieces as quickly as possible.
Have a Simply Serasi questions?