Satya Jewellery
Satya designer jewellery is world-renowned for its unique, modern designs. The Satya brand is synonymous with quality and style, and their pieces are coveted by fashionistas around the globe. Satya's necklace collections are particularly popular, with their stunning personalised pendants and chokers being a standout. But it's not just Satya's necklaces that are sought-after - their rings, earrings and bracelets all have a cult following with discerning jewellery lovers. If you're looking for something truly special, then Satya designer jewellery is sure to have the perfect piece for you.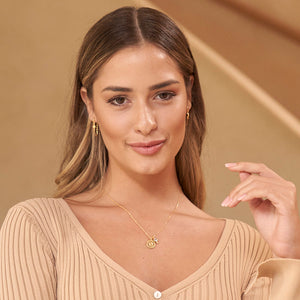 All About Satya
At the heart of everything we do is the desire to give back. That's the mission at Satya Jewellery who donates $1 from every order to the Satya Foundation, which provides help & opportunities to children all over the world. Their mission is to touch the lives of children in need & give them the opportunities we all deserve. 
Not only do they have a major focus on giving back but they also create incredible jewellery to raise funds for their cause. From necklaces, chokers, bracelets and earrings, everything they do had meaning and purpose. Satya jewellery is stunning and unique, and made with a commitment to using ethically-sourced stones, non-toxic metals and the highest quality standards for jewellery to cherish.
For jewellery tailored to you check out their talismans. They are objects often deemed sacred by those who wear them. Whether you're seeking prosperity, protection, or the magic of a new beginning, talismans can be used to help manifest whatever your soul is seeking. Discover which talisman best represents your journey with their Talisman Quiz, then choose the styles that call to your spirit. 
Free Shipping Australia Wide
Not only do we have a stunning wide-ranging collection, but when you buy online with Narvi you'll receive free standard shipping Australia wide. Or if you want to receive your gorgeous earrings as soon as possible, simply upgrade to express shipping for only $4.95.
For orders placed by 12pm AEST Monday to Friday, we'll also dispatch same day to ensure that you receive your beautiful pieces as quickly as possible.