Marcia Moran Jewellery
Marcia Moran is a Brazilian-born jewellery designer who now designs from sunny Los Angeles, California. Marcia's journey into the world of fashion design started when she was surrounded by artists and creativity in her early years, leading Marcia to ultimately pursue her dream and start her own jewellery business. Within a year, Marcia's beautiful designs were being sold in high-end boutiques all over Southern California. Marcia's distinct style has gained a dedicated following across not only the US but across Australia and the world, solidifying her spot as a go-to jewellery designer for unique and statement pieces. Marcia Moran's exquisite earrings in particular are truly one-of-a-kind and are perfect for any occasion. Whether you're looking for a unique gift or a special treat for yourself, Marcia Moran's jewellery will become your new go-to!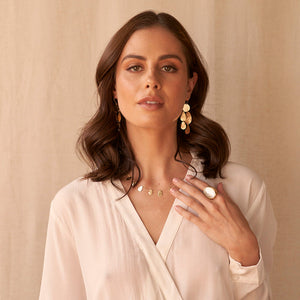 All About Marcia Moran
California style with the soul of Brazil. Marcia Moran was born and raised in luscious Brazil and moved to sunny Los Angeles, CA, in 2002. Surrounded by artists and creativity, Marcia pursued her dream of becoming a fashion designer. 
As a full-time mom, Marcia Moran started her business in her living room and was determined to pursue her dream. Within a year, she was selling to high-end boutiques all over Southern California. And within a few years her business grew into a trusted jewellery brand across the US.
Marcia Morna jewellery is now available in luxury department stores and resorts across the globe making it not only a boutique treasure but a staple to every wardrobe. Hollywood darlings like Brie Larson, Yara Shahidi, Debbie Matenopoulos, Hoda Kotb, and Demi Lovato wore Marcia Moran jewellery to special events like red carpets, magazine photoshoots, and interviews. 
Marcia's semi-precious stone and precious plated jewellery continue to stand out for its balance of timeless elegance and playful fashion. Rooted in precious Brazilian resources and California lifestyle, this jewellery line is sure to astonish! We're sure you'll love it as much as we do.
Free Shipping Australia Wide
Not only do we have a stunning wide-ranging collection, but when you buy online with Narvi you'll receive free standard shipping Australia wide. Or if you want to receive your gorgeous earrings as soon as possible, simply upgrade to express shipping for only $4.95.
For orders placed by 12pm AEST Monday to Friday, we'll also dispatch same day to ensure that you receive your beautiful pieces as quickly as possible.
Have a Marcia Moran questions?