Personalised Jewellery
With our gorgeous collection of personalised jewellery, it's the thought that counts. A meaningful present for gifting to friends and loved ones, discover our range of beautiful personalised jewellery at Narvi.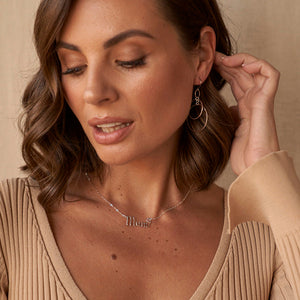 Personlised Jewellery Perfection
Our beautiful range of personalised jewellery have been curated just for you! From unique Zodiac themed necklaces to custom phrase designs, there is a piece that is made for every person.
Gorgeous in gold, our Zodiac range of personalised jewellery features gorgeous depiction of the star signs, embedded with the birthstone for each sign. Incredibly meaningful and designed for any lover of astrology or simply anyone who appreciates beautiful pieces, our zodiac necklaces are perfect for a gift to a friend or loved one for a special occasion.
Not just for the starsign lovers though, our letter necklaces provide a cute and fun nod to your name. Or for deeper meaning, enjoy our gorgeous 'Mum' and 'love' personalised necklaces, which will have special meaning each and every time you look at it.
No matter her taste or style, our beautiful personalised jewellery will be the perfect gift for that special someone - and also for yourself.
Free Shipping Australia Wide
Not only do we have a stunning wide-ranging collection, but when you buy online with Narvi you'll receive free standard shipping Australia wide. Or if you want to receive your gorgeous earrings as soon as possible, simply upgrade to express shipping for only $4.95.
For orders placed by 12pm AEST Monday to Friday, we'll also dispatch same day to ensure that you receive your beautiful pieces as quickly as possible.
Have a Personalised Jewellery questions?
What Sets Narvi's Personalised Necklaces Apart from Others?

Narvi's Personalised Necklaces are a cut above the rest, offering a unique blend of quality craftsmanship and individuality. Each necklace is carefully made to reflect your personal style or to capture a meaningful moment. With high-grade materials and intricate detailing, our personalised necklaces are a true embodiment of sentiment and elegance.
Are Narvi's Personalised Necklaces Suitable for Gift-Giving?

Absolutely! A personalised necklace from Narvi makes for a heartfelt gift, suitable for occasions like birthdays, anniversaries, or any moment worth commemorating. Each piece is crafted to capture a special sentiment, making it an ideal choice for gift-giving.
How Do I Know What Length to Choose for My Narvi Personalised Necklace?

Choosing the right length for your personalised necklace depends on both your styling preferences and the type of neckline you're pairing it with. We offer multiple chain lengths to ensure the necklace falls exactly where you desire. Consult our sizing guide for a comprehensive overview on how to make the best choice.
Can Narvi's Personalised Necklaces Be Worn Every Day?

Absolutely, Narvi's Personalised Necklaces are crafted to be both elegant and durable, making them ideal for everyday wear. Built with premium materials and high-quality craftsmanship, these necklaces are designed to withstand the rigours of daily life while keeping their aesthetic appeal intact.