Ellie Vail Jewellery
Founded in 2014 by Ellie Vail, the eponymous jewellery brand focuses on high quality, water resistant pieces. After struggling to find fashionable and affordable jewellery that didn't corrode quickly, Ellie was inspired to create her own line using stainless steel due to it not rusting after being left in water. Recognizing a gap in the market, Ellie set out to fill it and quickly became a pioneer in the water resistant jewellery trend. Today, the Ellie Vail brand offers a wide range of necklaces, rings, earrings, and more, all crafted with an attention to detail and made in the USA. Whether you're looking for your new everyday necklace or a special piece for a night out, Ellie Vail has something for everyone.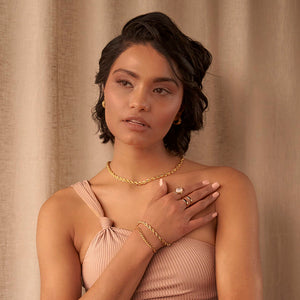 All About Ellie Vail
Ellie Vail is the original water and sweat resistant jewellery. Amazing right?! It was founded in 2014 after she couldn't find the quality of jewellery she wanted at a price she could afford. Ellie was fed up with fashion jewellery corroding quickly, especially when exposed to sweat or water. 
After noticing that stainless steel cuticle cutters didn't rust after being left in water, Ellie set out to create her own line of high quality jewellery line using stainless steel as the primary material. Seeing a gap in the market, Ellie focused on filling it and pioneered the water resistant jewellery trend.
Ellie Vail credits her "DIY" entrepreneurial strategy for most of her success. Ellie Vail has grown into one of the top fashion jewellery brands which is sold by hundreds of retailers including Urban Outfitters and Revolve. Celebrities who favour the brand include Kylie Jenner, Kendall Jenner, Nicki Minaj, Hailey Bieber, Khloe Kardashian, Kate Hudson and many more.
Ellie Vai's jewellery is modern, chic and so so cool! For super wearable pieces that won't hold you back from living your best life check them out.
Free Shipping Australia Wide
Not only do we have a stunning wide-ranging collection, but when you buy online with Narvi you'll receive free standard shipping Australia wide. Or if you want to receive your gorgeous earrings as soon as possible, simply upgrade to express shipping for only $4.95.
For orders placed by 12pm AEST Monday to Friday, we'll also dispatch same day to ensure that you receive your beautiful pieces as quickly as possible.
Have a Ellie Vail questions?