Statement Necklaces
Make an impact with these stunning statement necklaces. With gorgeous designs in gold and silver and stones that pop, explore our beautiful range to find your perfect piece.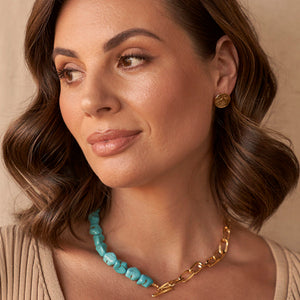 Statement Necklace in Style
Be bold and beautiful with our gorgeous range of statement necklaces! Here at Narvi we have a stunning range of styles and colours available for anyone and everyone.
If you're after sleek glamour, check out our range of gold statement necklaces - ranging from bold chain silhouettes to unique choker designs, you're sure to find that perfect golden necklace to finish your outfit.
If you're seeking quantity over size check out our range of styled stack statement necklaces. Pairing together the very best of our favourite designs, you're sure to wow the crowd!
Narvi makes it easy to shop for statement necklaces. No matter the occasion we have the perfect design just for you.
Free Shipping Australia Wide
Not only do we have a stunning wide-ranging collection, but when you buy online with Narvi you'll receive free standard shipping Australia wide. Or if you want to receive your gorgeous earrings as soon as possible, simply upgrade to express shipping for only $4.95.
For orders placed by 12pm AEST Monday to Friday, we'll also dispatch same day to ensure that you receive your beautiful pieces as quickly as possible.
Have a Statement Necklaces questions?
What Are Statement Earrings?

Statement earrings are a type of jewellery designed to make an impact and turn heads. These statement pieces often come in larger sizes than the average dangly or stud earrings, with bold shapes and eye-catching colours and designs. From elaborate boho-inspired styles to chunky geometric shapes, statement earrings come in a variety of looks, allowing wearers to choose the perfect piece that reflects their personal taste.
Are Statement Earrings In Style?

Statement earrings have been popular in the fashion world for years. As of late, they are even more in demand and can be found everywhere, from trendy boutiques to high-end department stores. Whether bold and maximalist or understated and minimalist, statement earrings are a great way to accessorize any outfit. They can be worn to an evening event or dressed down with jeans and a t-shirt - really, it all depends on your personal style! With so many options available, statement earrings make for the perfect finishing touch that will take any look up a notch.
What's The Best Occasions For Statement Earrings?

Statement earrings are a great way to add an extra touch of style and personality to any outfit. With a wide variety of colours, shapes, and sizes available, there's always the perfect statement earring out there! The best occasions to wear statement earrings are when attending special events like weddings or galas where you may want to make an impression with your look. Wearing statement earrings is also fun for casual settings such as a night out on the town or a gathering with friends. They can really give you that extra bit of pizzazz that will make any outfit shine. If you're looking for the perfect way to elevate your style at any type of event, wearing statement earrings could be just what you need!