Pink Necklaces
It's an old cliche, but we really do feel pretty in pink - pink necklaces especially! Check out our beautiful collection for your perfect shade.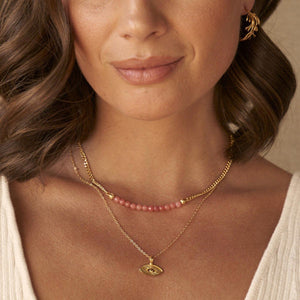 The prettiest of pink necklaces
Pink necklaces can make you feel like an absolute princess or a rock goddess - or you can be both, we have styles for all your moods. Feminine and oh-so-dainty, gorgeous pink hues give off a soft feel which adds impact to an outfit while still remainly classically subtle.
At Narvi, our pink necklaces feature gorgeous gemstones in light baby pink, bright fuchsia beads and stunning pink jade just to name a few. Therefore whether you're into bold bright pink or a more softer and subtle shade, there is a shade that has your name on it.
All our pieces at Narvi are created with the finest possible materials and our pink necklaces are no exception. We love eye-catching textures and patterns with the kind of details you can only get with artisan made goods.
There's no easier way to liven up your day and show your fun side than with a pink necklace. From classic to modern, we offer a wide range of elegant and stunning designs that will catch the eye and bring out your inner personality. All our necklaces are made of quality materials and are incredibly durable when cared for. With such a variety of necklaces available, you're sure to find what you're looking for at Narvi.
Free Shipping Australia Wide
Not only do we have a stunning wide-ranging collection, but when you buy online with Narvi you'll receive free standard shipping Australia wide. Or if you want to receive your gorgeous earrings as soon as possible, simply upgrade to express shipping for only $4.95.
For orders placed by 12pm AEST Monday to Friday, we'll also dispatch same day to ensure that you receive your beautiful pieces as quickly as possible.
Have a Pink Necklaces questions?